Posted on 13. Aug, 2017 by admin in Boost Traffic Generation, Cloud, Hosting, Increase Web Site Traffic, internet
Hybrid Cloud Architecture Trends (Part 1)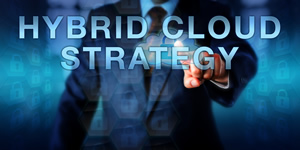 A 451 Research report survey – Cloud Transformation, Vendor Evaluations – asked more than 700 IT professionals how their organizations will use different on-premises and off-premises cloud environments over the next two years.
One key conclusion: Adoption of hybrid clouds is accelerating.
As it does, enterprises will need guidance to help design and structure hybrid clouds because there is no standard for hybrid cloud architecture.
Workload placement across distributed clouds is unique to each enterprise, and depends upon a range of factors, including the value/risk tied to:
Workloads
Lifecycle stages
Usage patterns
Application behavior characteristics
Data criticality
Data sovereignty.
Hybrid Cloud Transformation
Traditional IT infrastructure continues its metamorphosis. IT organizations are no longer limited to managing datacenters and a few hosted/managed service providers.
Impatient line-of-business teams and IT developers have procured SaaS, IaaS and PaaS cloud services to overcome resource constraints. The result? Multi-clouds are the new norm.
When multi-clouds enable the execution of distributed business processes, they become hybrid clouds.
Hybrid cloud architectures consist of two or more distinct cloud and on-premises infrastructures that exchange and synchronize data flows and execute business processes to deliver seamless business functions.
The figure below shows that single-cloud environments (on-premises private cloud, hosted private cloud or IaaS/public cloud) remain the prevailing cloud usage model (34% of respondents). Multiple parallel cloud environments ran a close second (29%).
Nearly 40% of the organizations plan to introduce various degrees of interconnection between their cloud environments, with 25% moving workloads and data, and 13% delivering business functions across different environments (i.e., hybrid clouds).
Cloud Deployment Plans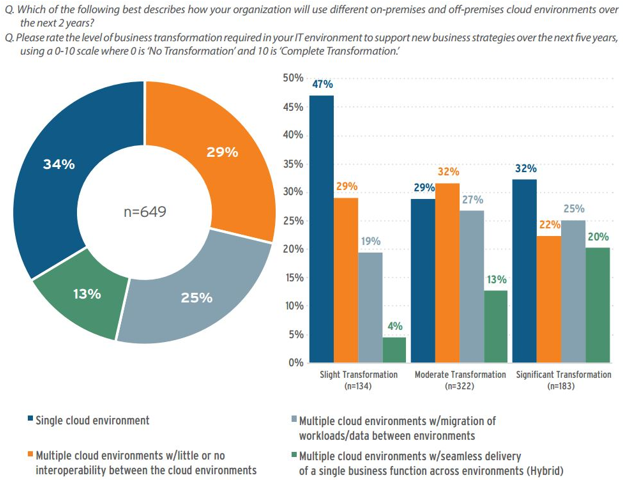 Organizations anticipating 'moderate' or 'significant' transformation in their IT environments showed considerably lower levels of single-cloud usage.
'Significant transformation' respondents are more likely to implement hybrid cloud environments, indicating that hybrid architectures are emerging as a key element of IT transformation.
Guidance
IT transformation requires greater interoperability across clouds and on-premises infrastructure. Enterprises will be challenged to redistribute workloads to the optimum execution venues.
As workloads shift across distributed, disparate multi-cloud and hybrid cloud environments, it will become difficult to assure that they perform as required.
Enterprises need to plan ahead to protect against the unintended consequences of workload degradation, or even failure.
Developers will need to instrument workloads with embedded application performance monitoring capabilities that can alert operators and/or automate remediation efforts when critical performance and execution metrics vary.
When anomalies occur, workloads may need to shift to another execution venue in another cloud region, an on-premises private cloud, or a datacenter.
And in some cases, enterprises will need to shift workloads to a different cloud service provider (CSP). In these cases, the more portable the workload, the better.
The next article in this two-part series will profile the hybrid cloud strategies and platforms of large CSPs, including AWS, Google, Microsoft, IBM and Oracle.
---